Kith and Kin Everywhere on this fine May 23 day of 2018:
As those of us of my generation (born in June 1925) become fewer and fewer; as those of you in the many post-WW2 generations proliferate, America becomes less and less able to recall any history of WW2. Peruse the output of our factories -- below.
We have sent all of that technology to China and China to whom we owe our very souls is not our friend!
America with only 1/2 of today's population -- you can Google that -- was able to do things impossible today with twice the number of hands and brains (?).
Perhaps that is because of our deteriorated "education" system; perhaps that is because no one is able to put down their computers they label as "phones;" perhaps that is because no one any longer thirsts to learn; perhaps that is because folks are waiting to let a Social George manage their lives; perhaps that is because photos, jokes and porn are more interesting than being a hard-driven American patriot in love with their heritage won then granted by the Founding Fathers and preceding generations of warriors. Who knows?
Who cares?
And the Millennial Generation is the most rude, crude, gimme-gimme, asinine generation of all that cannot function without thumbing through the idiocy of their "phones" to see if they missed a call from another nincompoop of their generation.
What have we -- what has technology wrought?
Advice from a nonagenarian and veteran of 3 wars includes learning Mandarin so you will be able to communicate with your new leaders!
https://www.fluentin3months.com/mandarin-chinese-is-easy/
Read on -- the below quotes, then I double dog dare you to leave a comment:
"As the 'greatest generation' dwindles, it is important the nation reflects on the innovation, mobilization, production, and bravery that occurred during WWII.
Seems Impossible
Carefully study this artwork. Then, read what we did.
Not only is the picture awesome, but so are
the statistics!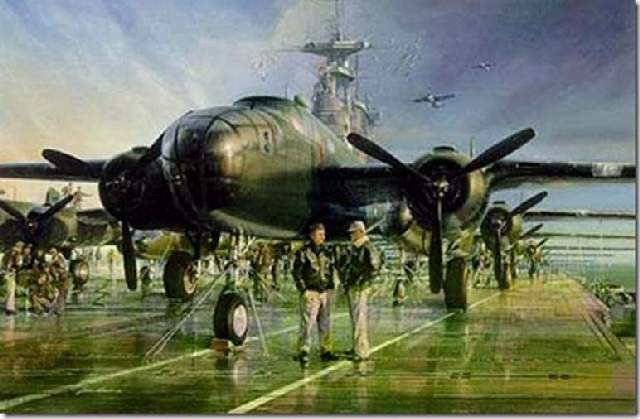 During the 3-1/2 years of World War II that started with the Japanese bombing of Pearl Harbor in December of 1941 and ended with the surrender of Germany and Japan in 1945, "We the People of the U.S.A." produced the following:
22 aircraft carriers
8 battleships
48 cruisers
349 destroyers
420 destroyer escorts
203 submarines
34 million tons of merchant ships
100,000 fighter aircraft
98,000 bombers
24,000 transport aircraft
58,000 training aircraft
93,000 tanks
257,000 artillery pieces
105,000 mortars
3,000,000 machine guns and
2,500,000 military trucks
We put 16.1 million men in uniform in the various armed services, invaded Africa, invaded Sicily and Italy, won the battle for the Atlantic, planned and executed D-Day, marched across the Pacific and Europe, developed the atomic bomb and, ultimately, conquered Japan and Germany.
It's worth noting that this all took place in less than half the time the Obama Administration was in place. With more than twice this amount of time, the Obama Administration couldn't even build a healthcare web site that worked!!!"
I wouldn't be surprised if both operations cost about the same.
It's amazing what America did in those days